Two spectacular light shows over Hong Kong's Victoria Harbour – the new version of the internationally acclaimed nightly multi-media light show Hong Kong Symphony of Light and the Winter Hong Kong Pulse Light Show was unveiled on 1 December 2017. These two world-class shows are best viewed from the Tsim Sha Tsui waterfront and will brighten up Hong Kong's Christmas with dynamic lighting effects and the illusion of an icy atmosphere at the Hong Kong Cultural Centre! A must visit if you are visiting Hong Kong during this festive period.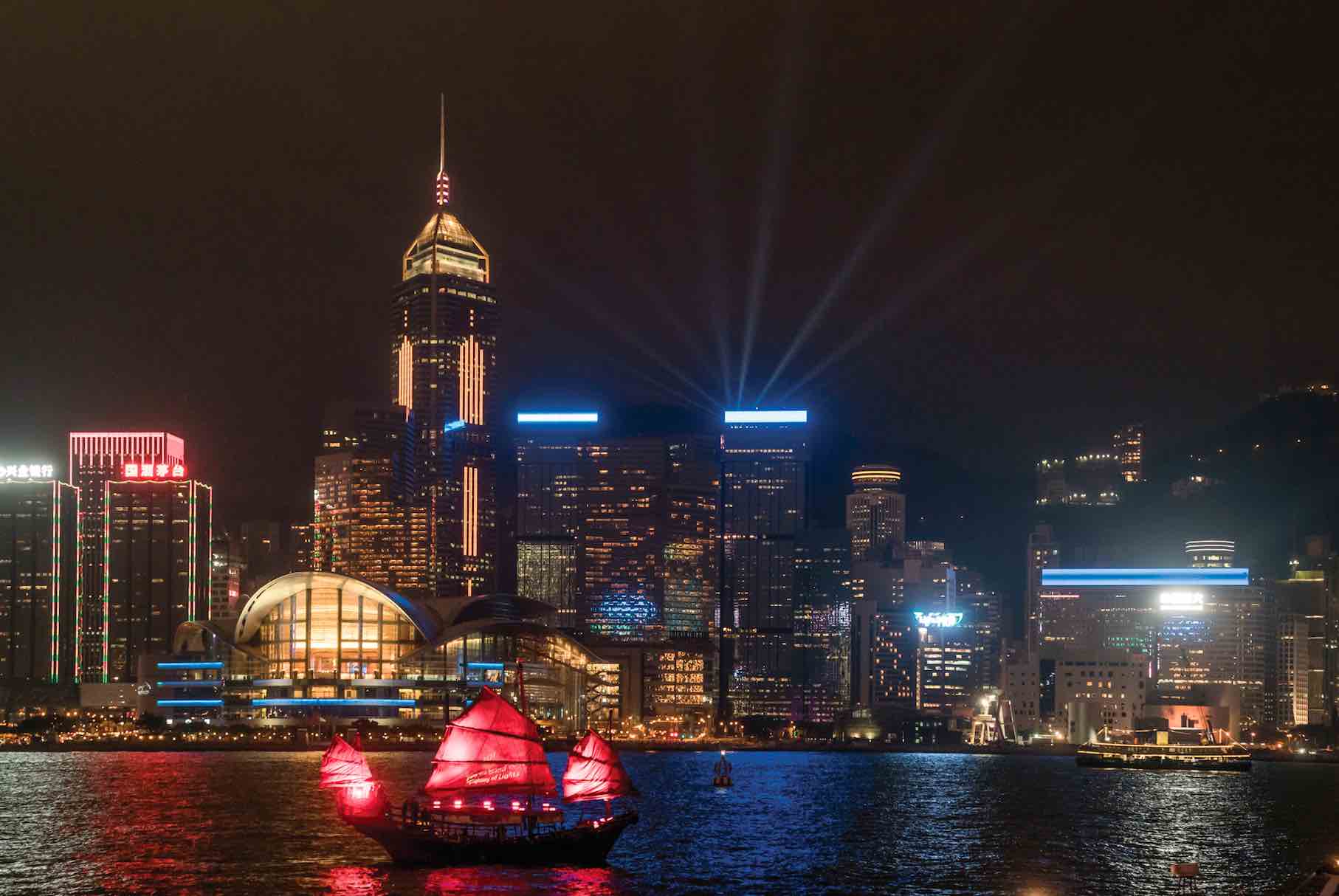 New Symphony of Lights
The new version of A Symphony of Lights features dynamic rays of light delivered in rhythm from 40 buildings and locations on both shores of the Victoria Harbour. The new light show showcases a variety of exciting lighting effects such as coloured searchlights, lasers, and all-new beam lights sent out like a special fan-shaped lighting effect from the roof of the Central Government Offices and the Revenue Tower. For the first time ever, ten LED panels on a number of harbourside buildings joined the multi-media show to display images and messages for greater audience participation.
The show is complemented by music from Asia's leading classical orchestra the Hong Kong Philharmonic Orchestra, providing you with a thrilling and unforgettable sound-and-light experience. The 10-minute show begins at 8pm every evening.
Winter Hong Kong Pulse Light Show
Immediately after A Symphony of Lights, the Winter Hong Kong Pulse Light Show begins at the Hong Kong Cultural Centre. You and your loved ones can view it from the Hong Kong Cultural Centre Piazza. The 3D projection show begins with a snowstorm which covers the Hong Kong Cultural Centre in snow and ice and blows away the numbers on the Clock Tower, stopping time just before Christmas arrives.
An ingenious dragon then sets out to find the missing numbers which are scattered across Hong Kong landmarks. The dragon eventually finds them and restarts time to save Christmas. During the show, the piazza is decorated with snowing effect along with glowing LED balls and a giant crystal ball. The 8-minute performance runs from 1 to 28 December 2017.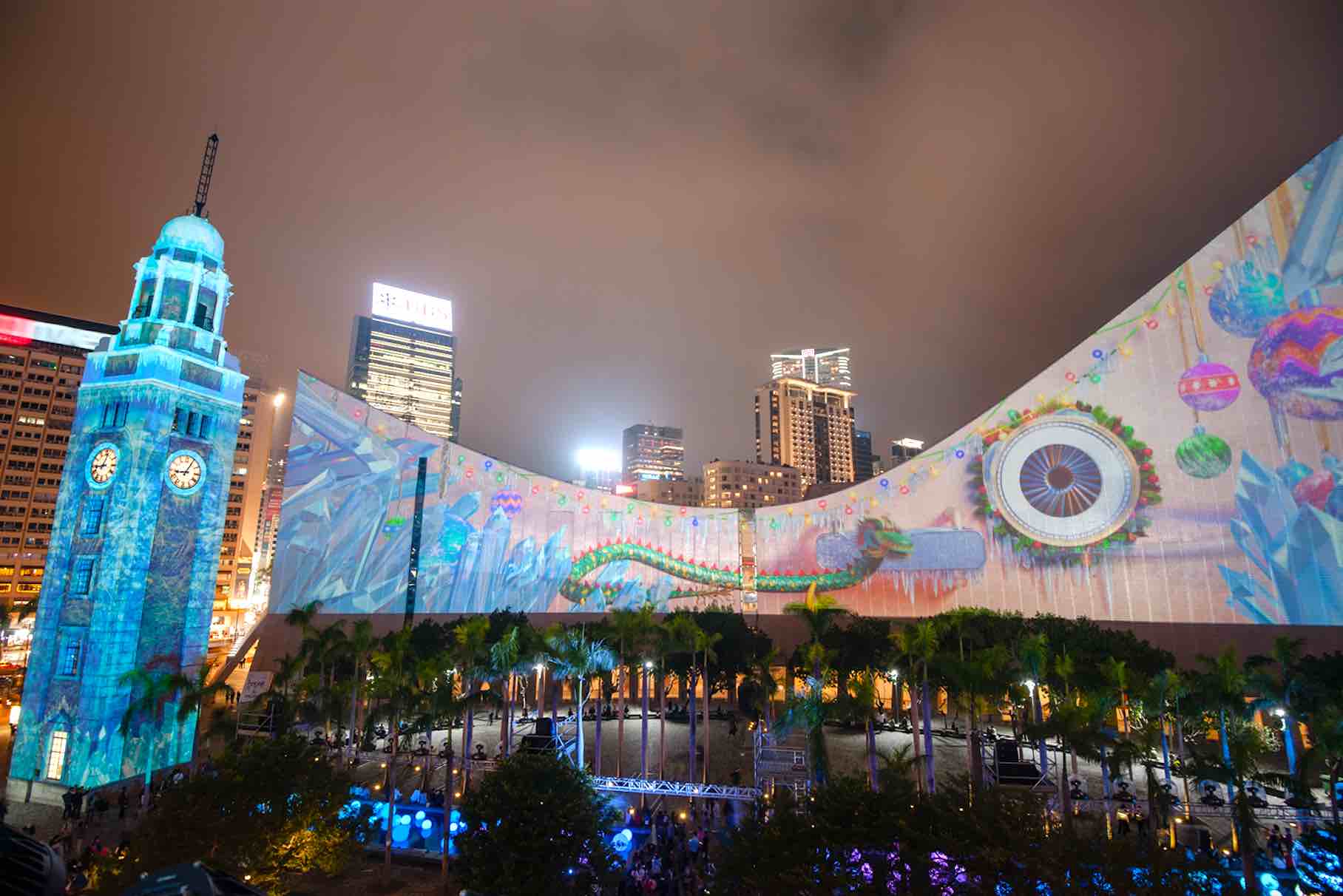 A Symphony of Lights
Address: Buildings on both Hong Kong Island and Kowloon | Tel: +852 2508 1234 | Vantage Points: Tsim Sha Tsui Promenade outside the Hong Kong Cultural Centre: MTR East Tsim Sha Tsui Station, Exit L6. Follow the signs and walk for around five minutes, Golden Bauhinia Square: MTR Wan Chai Station, Exit A5. Follow the signs, take the sky bridge to the Hong Kong Convention and Exhibition Centre, and head for the Golden Bauhinia Square or Take A Boat Ride on the Harbour
Winter Hong Kong Pulse Light Show
Dates
Time
1–28 December 2017
(During Hong Kong WinterFest)
8:10pm, 8:40pm, 9pm, 9:20pm and 9:40pm nightly (about eight minutes per session)