If you are seeking something unique and different for a festive feast this year, The Peranakan Restaurant Singapore has prepared the perfect setting for a joyous year-end catch-up amongst good friends, an intimate Christmas celebration for two, or a jolly family gathering of Nonya grand dames and their clans. You and your loved ones are in for a sumptuous Christmas line-up of Nyonya delicacies that include stuffed turkey, a 4-course Modern Peranakan menu and cocktails infused with Bunga Telang (butterfly pea flower) that will have everyone singing along to Peranakan Sayang's 'Mari, Merry Christmas'.
The Peranakan Restaurant Christmas 2018 –  Christmas Roast Turkey With Peranakan Stuffing
The returning stars of last year's festive takeaways – Christmas Roast Turkey with Nasi Buah Keluak Stuffing ($138++) or Nasi Ulam Stuffing ($168++), are available for pre-orders. 
A delicious centrepiece that will shine at any party table, this Christmas Turkey is bathed in a marinade of typical Peranakan herbs and spices such as chillies, ginger and lemongrass before a long, slow-roast in the oven.
This achieves a delicate and crispy skin, whilst keeping the turkey moist and tender, brimming with lots of juicy flavour on the inside. Each turkey is also stuffed with a choice of fragrant Jasmine rice fillings – choose from The Peranakan's renowned buah keluak paste generously stirred through white rice, or our true blue Nasi Ulam made with finely chopped herbs and vegetables. A luscious drizzling sauce also accompanies each Christmas Roast Turkey, crafted from the concentrated marinade and turkey cooking juices. These are certainly carvings worthy of a decadent Peranakan Christmas!
The Peranakan Restaurant Christmas 2018 – Set Menu & Cocktails
For dining in, The Peranakan's newly-appointed Executive Sous Chef Gabriel Khoo is all set to present the restaurant's debut Christmas Set Menu, priced at $68++ for 4-courses or $88++ inclusive of 3 Bunga Telang cocktails. Available from now till year end, each course is a thoughtful plating of traditional Peranakan favourites in a modern presentation, ideally suited to savouring in the style of a degustation menu.
The discovery begins with a trio of pan-seared prawns, each one draped in a different quintessential Peranakan gravy such as Assam Pedas, made from chilli and tamarind, or Sambal Udang sauce.
You will also have the chance to savour the restaurant's Christmas Roast Turkey as the tasting menu's main course. Generously carved slices are accompanied by a serve of fragrant Nasi Ulam, spicy pickled cucumber and signature Buah Keluak sauce.
Ending on a sweet note, Chef Gabriel creates a modern version of the quintessential Durian Pengat. Whilst staying true to the original flavours, Chef Gabriel presents the dessert as an elegant pudding that's perfect for one, topped with aromatic Gula Melaka sauce and desiccated coconut.
Don't miss out on our refreshing, purple and blue-hued Christmas cocktails, shaken and stirred with our house-made Bunga Telang syrup, perfectly paired with the tasting menu's savoury dishes.
The Peranakan Restaurant Christmas 2018 – Festive Weekends
There's no party like a Peranakan party! To make your Christmas makan even more sedap, dine in at The Peranakan on weekends in November and December for a complete Straits Chinese cultural experience. Whether you're keen on getting hands-on at an Apom Bok Kwa or Nasi Ulam culinary workshop, or if you'd rather put on dancing shoes for a joget-filled afternoon High-Tea dance, Saturdays and Sundays are when our culture comes to life in the heart of Orchard Road.
Book online at www.theperanakanshop.com/events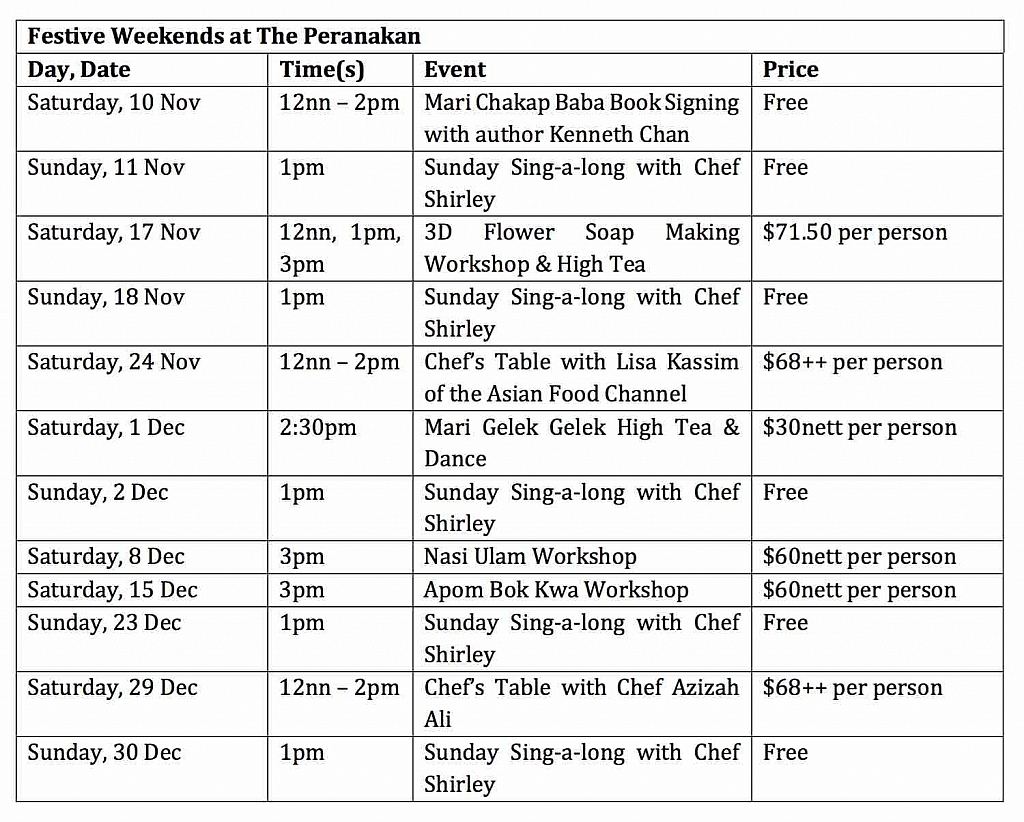 The Peranakan Restaurant Christmas 2018 – Reservations
Booking and reservations are recommended to avoid disappointment. The details are below:
The Peranakan Restaurant Singapore
Address: Level 2, Claymore Connect, 442 Orchard Road Singapore 238879 | Opening Hours: 11am to 10pm Daily | Tel: 6262 4428 | Website: www.theperanakan.com | Email: [email protected]