Weekends in Singapore are best spent checking out new dining destinations and occasional staycations. We are thrilled to be able to accomplish both at our recent staycation at Singapore's beloved Studio M Hotel. Before checking in, we started our adventure with a hearty brunch at MEMO By Studio M which has recently evolved from a casual self-service deli to a full-service, all-day dining café offering hearty bistro fare and innovative coffee-based beverages! 
MEMO By Studio M – The Evolution
For years, Studio M has served as the perfect pit stop for savvy travellers who desired stylish accommodation amidst an informed itinerary. Grab-and-go concept MEMO likewise, offered a fuss-free alternative to the standard hotel restaurant, featuring a selection of snacks and simple takeaway foods.
With the turn of a decade and the rising demands of a burgeoning Robertson Quay neighbourhood, MEMO has evolved to provide new culinary offerings, a refreshed grab-and-go counter updated with modern-day amenities and brightened interiors! We will be sampling some of their latest offerings on the menu!
MEMO By Studio M – Yummy & Fun Beverages
Their refreshed menu consists of light bites ranging from brunch items and hearty meals. We kickstarted the meal with an ice-cold Mango Smoothie
and a delicious pink latte that was made even more special with customisation using your preferred photo. Besides customisable lattes, you can look forward to MEMO's innovative coffee beverages including uniquely-flavoured gingerbread, popcorn and peppermint lattes that deliver a pep-up in more ways than one.
MEMO By Studio M – Presenting The Mains
For a quick bite on-the-go, MEMO offers a tantalising array of hearty sandwiches including Smoked Salmon, guilty pleasures such as Truffle Fries, as well as the comforting Creamy Smoked Tomato Soup and healthy Pumpkin & Feta salad for a nourishing lunch. 
But if you seek something more substantial, you must try new dishes from their refreshed all-day brunch menu. All-time brunch favourites include the decadent Chum Chum comprising streaky bacon and SMH Big 'Brunch'— streaky bacon, Italian sausage, potatoes, and a fried egg loaded onto sourdough toast, finished with smoked salmon. Chum Chum was our personal favourite – it feels like a westernised Nasi Lemak. 
Making its mark too at MEMO are tantalising pastas and mains including the perfectly al-dente Spaghetti Carbonara  served with confit mushroom, streaky bacon, egg yolk, spinach and parmesan cheese and the chef's recommendation – Seafood Casserole,  an aromatic dish filled with hearty servings of succulent prawns, carrots, celery and potatoes, topped with saffron-infused tomato sauce.
We also like the Prawn Penne which tasted again like the westernised version of our familiar traditional prawn noodles. The broth soaked up intensive flavours from the prawns which is guaranteed to satisfy any seafood lovers.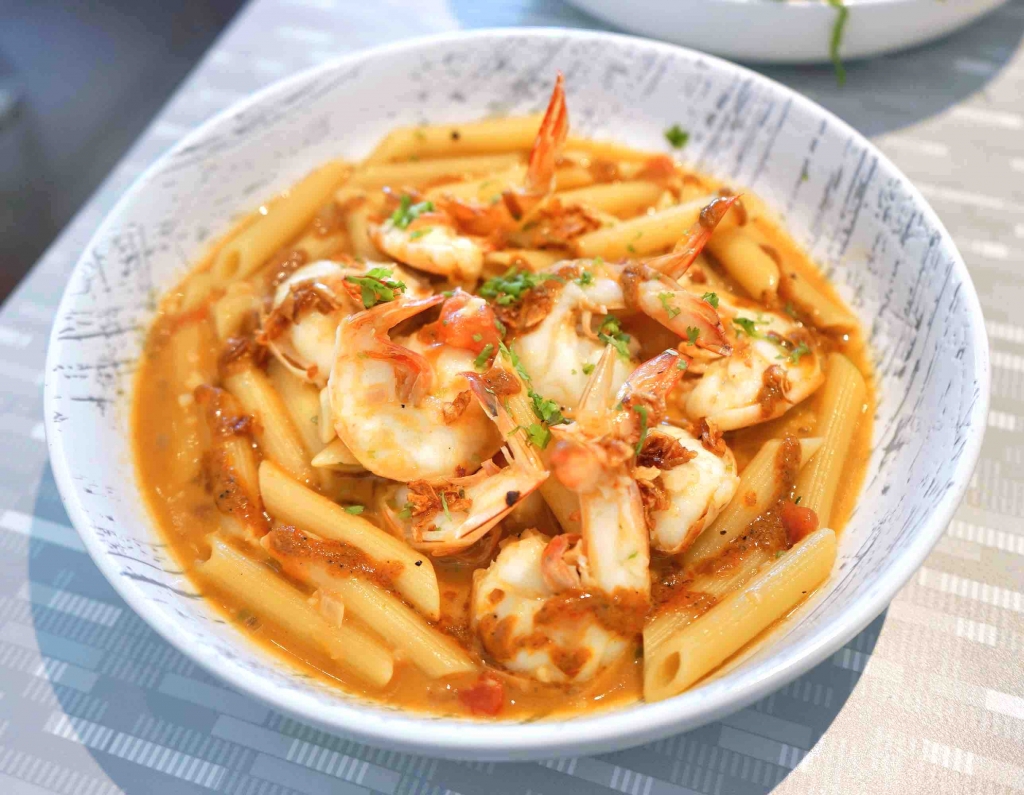 Last to be served was our Grilled Herb & Lemon Baby Chicken. This dish offer a less carb option who prefer a fulfilling but still relatively healthy weekend brunch.
In addition to quick bites and hearty mains, MEMO also provides the option of pairing your meal with a wide selection of wines and craft beers!
MEMO By Studio M – Make A Date For Brunch
Even if you are not coming over for a staycation, come round the area and check out their delicious brunch offerings for a satisfying weekend!
Address: No. 3 Nanson Road Singapore 238910 | Opening Hours: 7.00am – 11.00pm (Monday to Thursday & Sunday) & 7.00am – 12.00am (Friday to Saturday) | Tel: +65 6808 8885 | Email: Memo.StudioM@millenniumhotels.com | Website: Studio M Memo