Chef Chee Hin Yew, who has worked loyally alongside Chef Yong at Majestic Restaurant for sixteen years and counting will become its new Chinese Executive Chef. He has created a new line of signature dishes for Majestic Bay Seafood Restaurant while keeping with Chef Yong's signature style of combining innovation with tradition. The restaurant prides itself on its versatility. The 190-seater restaurant serves dim sum lunch in the day and switches to fresh seafood dishes for sit-down gatherings as night falls.
Majestic Bay Seafood Restaurant – Fresh From The Sea
A common thread running through the menu highlights is the concept of seeking harmony within duality and bringing together complementary combinations. With these dishes, contrasts are celebrated and served as the best of both worlds. Chef Yong draws from a wide range of culinary inspirations to bring seafood cuisine to its full potential. For example – Sautéed Mud Crab with Basil Leaves in White Wine Sauce (羅勒葉白葡萄酒煮螃蟹, S$68++ per order), an East-meets-West fusion of decadent, creamy white wine sauce melding with the subtle flavours of fresh crab meat.
Lobster in Homemade Champagne Sauce (水果香槟酱龙虾, S$50++ per order) also brings together two of the finer things in life, showing that they are truly a match made in heaven. The dish is a refreshing, tangy combination of a fruity champagne sauce and lobster, with a riot of colours and flavours reminiscent of sipping cocktails by the beach.
Last but not least, the Catch of the Day Prepared in Two Ways (兩味海上鮮 – 爆炒魚片/椒鹽頭腩, S$80++), displays the traditional Chinese principle of yin and yang along with the versatility of Chinese cooking. A whole fish is filleted and served, with deep-fried bites of fish on one side of the plate: the crispy, peppery fried crust packs a powerful punch but melts in the mouth to give way to mouthfuls of fresh, tender fish. On the other, the original flavours of the fish are displayed to perfection in lightly pan-fried slices, which is a study in simplicity at its finest.
Majestic Bay Seafood Restaurant – Heritage Highlights 
Majestic Bay's non-seafood dishes are not to be missed either. These tributes to our multicultural culinary heritage will have you looking at classic dishes in a different light. Limited to only four portions every day, the Malaysian Free-Range Chicken Rice, Claypot Style (沙煲 甘榜鸡饭. S$32++ per order) combines aspects of different traditions to give a new take on a Singaporean hawker staple. Instead of the quintessential dish with sliced Chinese sausage and dark soy sauce, this classic combination of juicy chicken and fragrant rice cooked and served in an earthen bowl is a homage to the iconic Hainanese chicken rice.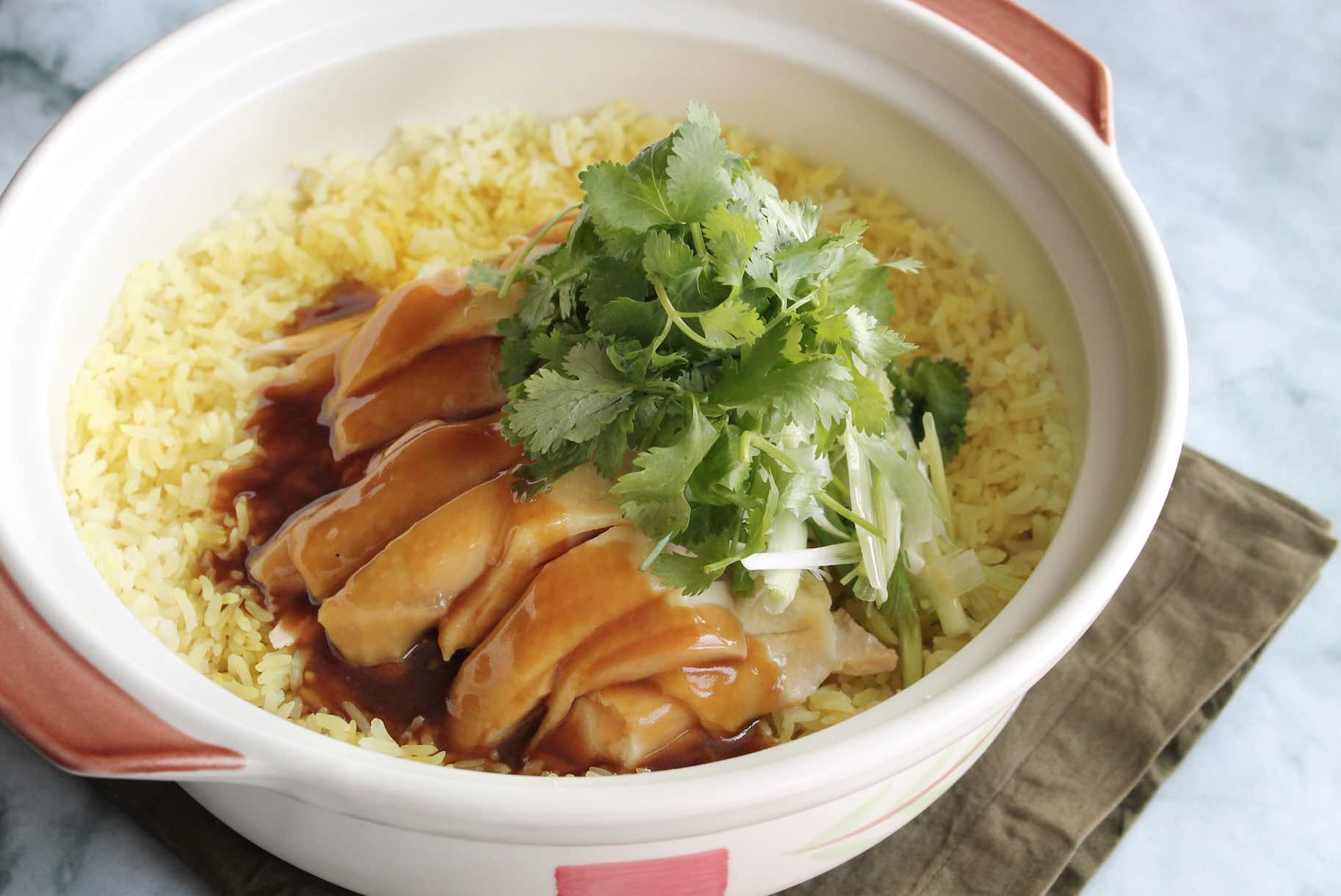 For Baby Pork Belly Ribs, Jiangsu Style (江苏镇江猪腩骨, S$24++ per order), you can once again witness how ingredients are brought together to complement each other, as the acidity of the renowned Zhejiang vinegar cuts through the rich flavour of pork to create a satisfying, richly aromatic indulgence.
Honouring our culturally diverse street food and Chef Chee's Malaysian heritage, the Crispy Prawns in Satay Peanut Sauce (花生沙爹酱虾球,S$28++ per order) offer savoury-sweet, fuss-free bites of homemade peanut sauce and chewy shelled prawns. Chef Chee himself is a fan of satay and decided to blend the typically meaty hawker fare with Majestic Bay's seafood-focused concept.
To round up the feast on a sweet note, get Chendol Siew Dai (煎蕊诱惑, S$4.80++/pax), an iconic Southeast Asian dessert which is surely familiar to locals. The saying "you can't beat the classics" comes to mind with this concoction of coconut milk, shaved ice and sweet beans, along with attap chee and homemade almond jelly. This lighter version of a well-loved indulgence will end the meal perfectly.
Majestic Bay Seafood Restaurant  – Classic Dim Sum
As for the dim sum menu, expect a tantalizing mix of flavours and textures. In a homage to the iconic King of Fruits, the Durian "Swan" Crispy Pastries (榴槤天鵝酥, S$4.80++ for 2pcs) adds a satisfying crunch to the creaminess of durian. The silky-smooth Rice Flour Roll with Sweet Corn & Fresh Lily (粟米鮮百合猪肠粉, S$6.00++), will give you 'chee cheong fun' like you've never seen it before: the addition of sweet corn and lily make this dish light on the palate and stomach. Plus, you can get dim sum at any time of the day – keep a lookout for the all-day dim sum menu.
Majestic Bay Seafood Restaurant – An Ode To The Island-City 
Located below the Flower Dome, Majestic Bay Seafood Restaurant offers a spacious layout apt for family and group dining as well as a private room for intimate gatherings. The design of the restaurant seeks to make the most of the impressive waterfront view of the Marina Bay, taking on nautical references in its design. The setting is reminiscent of a ship deck, with its modern palette of relaxing neutral tones, light oak floors, and a feature wall of round mirror 'portholes'. The corporate colour of aquamarine further accentuates the 'water' theme.
Another highlight in Majestic Bay Seafood Restaurant's interior is the display of artworks by Hong Zhu An, an award-winning Singapore-based artist specializing in calligraphy on layered pigments. Exhibited around the world, his works layer paper pulp on rice paper to achieve a 3D texture. The restaurant features four sought-after pieces from the famed artist.
Majestic Bay Seafood Restaurant – Reserve Your Seats today! 
Majestic Bay Seafood Restaurant aims to celebrate Singapore's identity as an island, from our origins as a humble fishing village to the cosmopolitan metropolis we are today. Its location in a prime tourist attraction offers a golden opportunity to show visitors the best of what this city has to offer and to allow Singaporeans to rediscover their heritage through food, in ways they never expected to taste or see. Hurry, chope your seats today!