To show its support for the preservation of the local culinary heritage, The Lobby Lounge at Shangri-La Hotel, Singapore is proud to present the indulgence of perennial local favourites but this time breakfast items under one roof with the launch of six signature heritage breakfast dishes. The Lobby Lounge Heritage Breakfast offers an authentic Singaporean breakfast spread showcasing national breakfast favourites, such as Nasi Lemak, Roti Prata, Soft-Boiled Eggs with Kaya Toast, Wanton Mee, Carrot Cake and Hainanese Porridge.
Lobby Lounge Heritage Breakfast – Revealing The 6 Iconic Local Breakfast Dishes
Together with prominent food blogger Dr Leslie Tay, Shangri-La Hotel, Singapore curated a delicious authentic local breakfast menu that is sure to get a thumbs up from any Singaporean. The hotel also collaborated with popular local food brands such as The Coconut Club and Springleaf Prata Place to showcase their respective signature recipes for Nasi Lemak and Roti Prata.
A Michelin Guide Bib Gourmand Singapore 2018 awardee, The Coconut Club is renowned for its Nasi Lemak — jasmine rice infused with the fragrance of fresh coconut milk and served with crispy anchovies, peanuts, fried egg, sliced cucumber and sambal chilli that offers a real kick. The dish is completed with a serving of spice-marinated chicken deep-fried till crisp and golden-brown.
Springleaf Prata Place, which is famous for its Roti Prata with Dhal Cha and Fish Curry, features its hand-stretched dough that is fried with ghee for a fluffy centre and crisp outer layer. This famous Indian flat bread is best complemented with Dhal Cha and Fish Curry.
No Singaporean breakfast line-up is complete without the most iconic local breakfast dish: Soft-Boiled Eggs with Kaya Toast. A labour of love, the kaya is made from scratch using the hotel's Executive Chef Franco Brodini's recipe, which he developed after countless tastings and months of research. Simple, yet gratifying, the kaya toast is served with soft-boiled eggs.
Another favourite is the Wanton Mee featuring al dente ribbons of noodles tossed in a special black sauce made by Shang Palace's Chinese Executive Chef Mok Kit Keung. The noodles are topped with fried pork and shrimp dumplings, barbecued pork and served with a side of dumpling soup.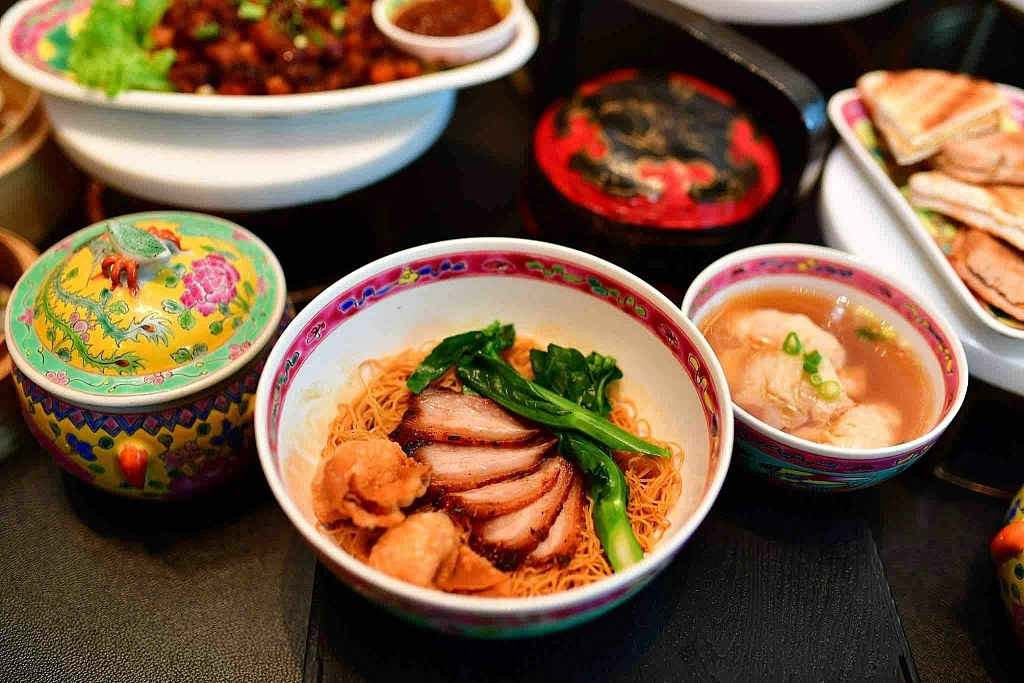 Get a taste of The Lobby Lounge's very own Chef Yong Jia's Fried Carrot Cake — steamed turnip cake stir-fried with pickled radish, egg, spring onions and a generous amount of dark soy sauce. Rounding up the line-up is the Hainanese Porridge, a comforting bowl comprising silky porridge, homemade meatball and sliced pork. The flavour is enhanced with a dash of sesame oil and julienned ginger. Immerse the Youtiao into the porridge to soak up its goodness.
Lobby Lounge Heritage Breakfast – Buffet Or Ala Carte, Your Choice
These six signature breakfast dishes can be ordered from the à la carte menu, or enjoyed as part of the weekend buffet from 7am till 11am. The semi-buffet includes an à la carte selection, unlimited servings of the buffet spread and a cup of local beverage such as Kopi Tarik, Teh Tarik and Milo.
The buffet also features other iconic dishes from the local cuisine, including Tiong Bahru Jian Bo Shui Kueh's signature Shui Kueh; Ah Yee's Soon Kueh; HarriAnns's Yam Cake and Tau Suan; and Lina's Confectionary's Kueh Lopes with gula melaka syrup. The Lobby Lounge's chefs will also whip up a feast that includes mee siam, fried economic noodles, lontong with sayur loden and beef serunding, fried glutinous rice, tau huay, and many more. The side dishes on the buffet spread will be available on a rotational basis.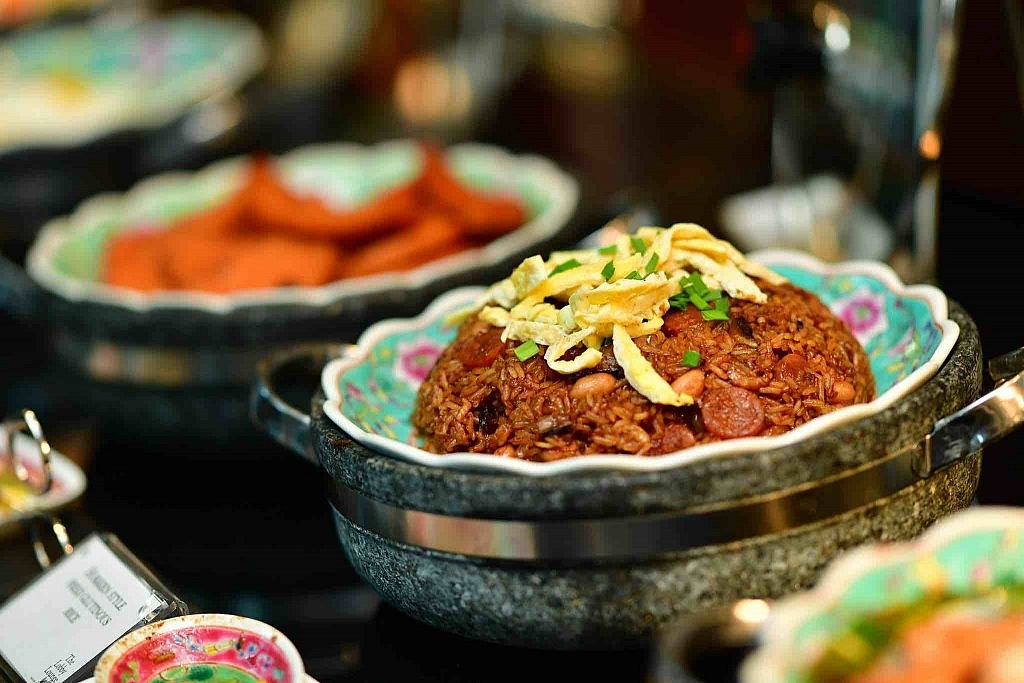 Lobby Lounge Heritage Breakfast – Pledge of Support for Singapore's Hawker Culture
A strong supporter of Singapore's vibrant hawker culture, Shangri-La Hotel, Singapore is proud to have pledged support for the nomination of Hawker Culture in Singapore for UNESCO's Representative List of Intangible Cultural Heritage. Since 2017, The Lobby Lounge has this unique concept where top hawkers are brought together in a beautiful hotel setting for everyone to enjoy iconic local hawker fare in town, all under one roof.
Shangri-La Hotel, Singapore is proud to collaborate with local hawkers to serve authentic local hawker fare to guests, especially tourists and business travellers. Inviting the hawkers to showcase their signatures dishes as mainstays on The Lobby Lounge's menu, and featuring prominent hawkers at the monthly Heritage Pop-ups during lunch, are expressions of the hotel recognition and respect to these hawkers and their craft.
Here's the full information if you are thinking of heading down for an awesome breakfast!
Lobby Lounge Heritage Breakfast
Address: Lobby Level, Tower Wing, Shangri-La Hotel, Singapore, 22 Orange Grove Road, Singapore 258350 | Opening Hours: 7am -12 Midnight Daily | Breakfast À La Carte: 7am to 10am (Mon – Fri) & 7am — 11am (Sat, Sun & Public Holidays) | Breakfast Buffet: 7am – 11am (Sat, Sun & Public Holidays) | Price: Adult S$29.50++, Child S$14.75++