We love to drink but seldom question or ponder how this beverage that we love so much is crafted. That's why we accepted LeVeL33 Brewery Tour Singapore exclusive brewery tour the moment we received it! With the promise of pints after pints of freshly crafted beer and a magnificent view of the Marina Bay area, we can't wait to start the tour of the world's highest urban microbrewery. Led by Brewmaster Gabriel Garcia, we will find out what it takes to brew 150 metres above ground, ensure the quality is kept consistently high and produce a delicious selection of beers that will have customers flowing in each day.
LeVeL33 Brewery Tour Singapore – What's The Deal?
Priced at $58++ per person, our 30-minute tour is actually a new offering by LeVel33 that is available for bookings every first Saturday of each month. The experience includes a half-litre taster beer paddle of LeVeL33's regular and seasonal beers, a beer tasting platter to share and a terrace table with uninterrupted views of the Singapore skyline and waterfront. There is, however, a requirement to have a minimum of 6 participants to start the tour to a maximum of 15 participants. We started ours with their new seasonal beer – The Session Pale Ale. 
LeVeL33 Brewery Tour Singapore – What're The Key Takeaways? 
During the tour, we got to learn about the brewing process in the specially developed, eight-tonne state-of-the-art microbrewery system, which comprises 12 tanks and the two copper kettles custom-made for LeVeL33 by SALM & Co Gmbh, one of Europe's oldest manufacturers.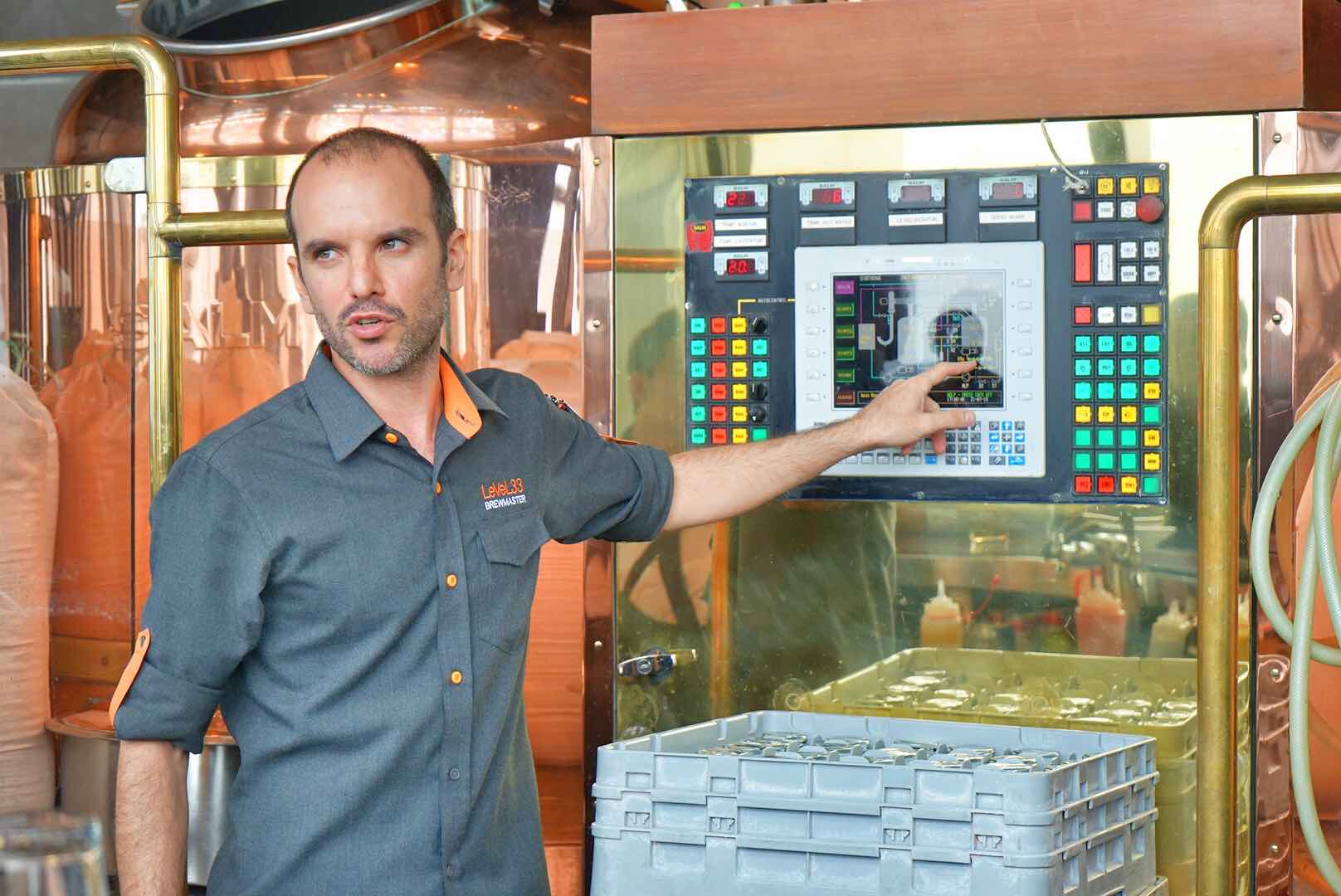 Given that LeVeL33 only brews onsite and never distributes its beers beyond the premises, the guided tour will give you a rare insight into what it takes to plan the brewing schedule, manage the tanks and brew five different beers in the middle of the busy financial district. We shall not reveal too much in the post, you should sign up and experience the tour yourself!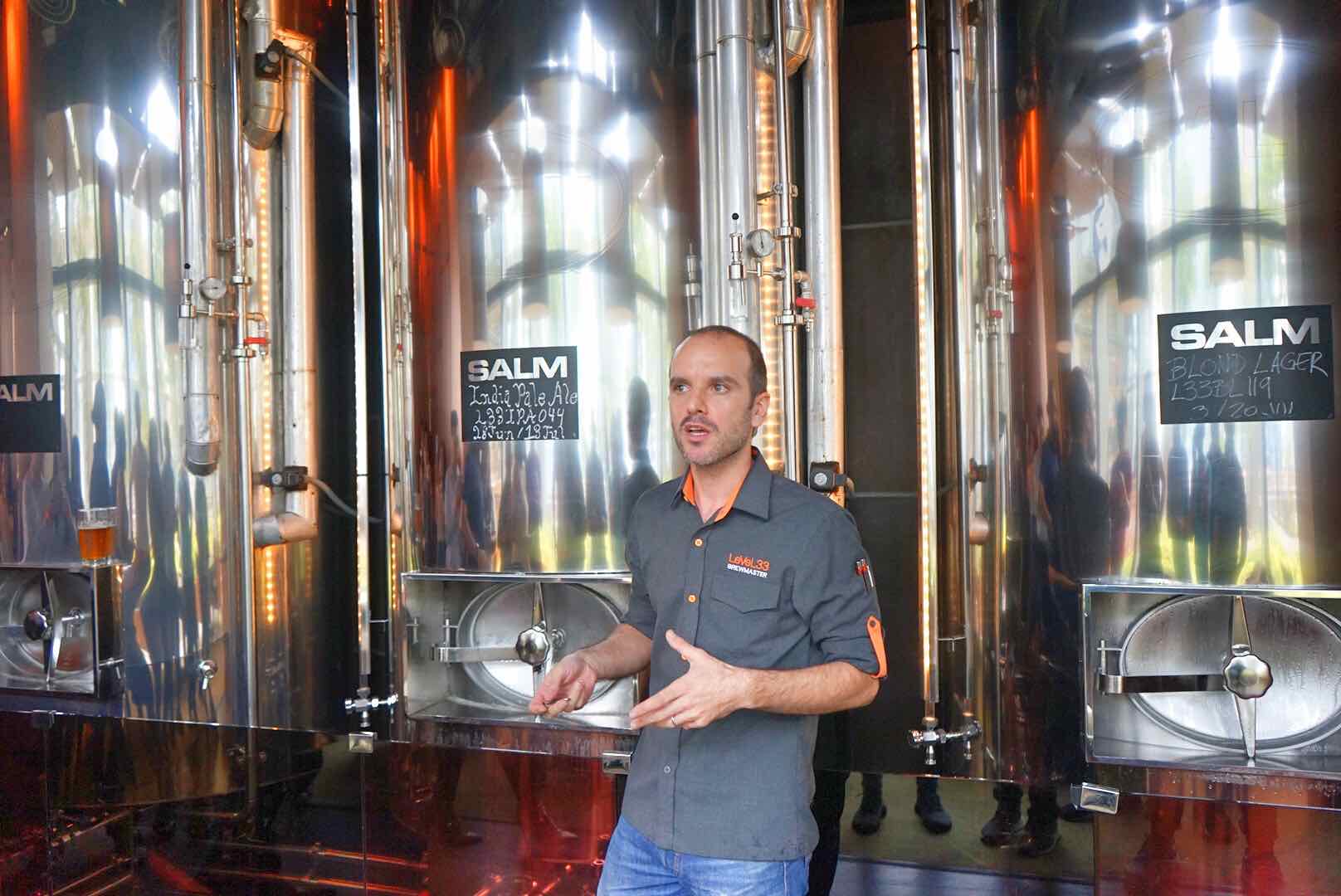 LeVeL33 Brewery Tour Singapore – The Real Fun Starts!
Of course, the real fun starts when we got to sample the wide variety of LeVeL33's craft beers. We will explain each and everyone of them below: 
1. Blond Lager
Inspired by the original 1841 Vienna Blond Lager, this refreshing 33.1 brew has a slight hint of fruit and pours to a smooth sunshine-gold hue.
2. India Pale Ale
Brewed since the late 1700s, IPA contains a substantial amount of hops, which acted as a natural preservative during the long journey to the English troops in India.
3. Wheat Beer
Also known as Weissbier or Weizenbier, this golden beer has been brewed in Bavaria since the 16th century. Using malted wheat and special strains of top-fermenting yeast, the 33.9 Wheat Beer is rich in flavour with hints of banana.
4. Stout
A rediscovery of the original Irish stout crafted using authentic brewing principles from Ireland, the full-bodied 33.3 Stout is flavourful and silky with a roasted aftertaste.
You will get to sample these delicious pints of craft beers with yummilicious bites too! Exclusively for NDP 2018, you will get to sample LeVeL33's interpretation of Singapore favourites – Singapore Platter.Available from 12 July – 9 Augustthe platter is a selection of delectable classics including Chilli Soft Shell Brewery Sliders, Grilled Whole Quail with Ginger Flower. Diners can also relish the special rendition of other hawker classics reinterpreted, such as Spent Grain Cereal Local Mussels and Laksa Prawn Cocktail. Taking inspiration from kaya toast, the Kaya doughnuts will definitely be a crowd favourite. Priced at $53++, this sharing platter is perfect for three.  Below is what we had during our tour session.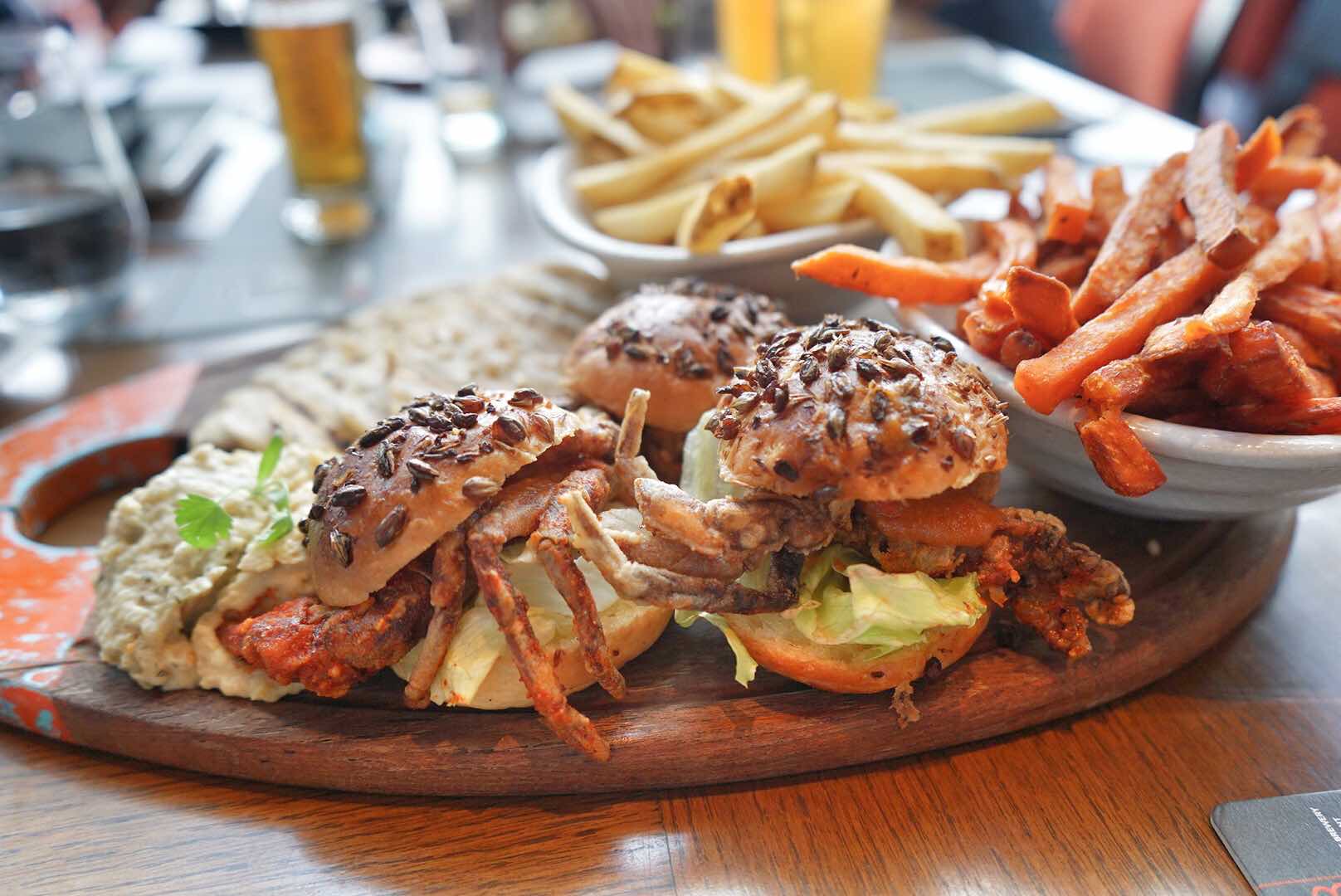 On the day of National Day celebration, you can get to enjoy Chef's Selection of local delights. The sharing style menu includes Hiramasa Kingfish cured with sweet ginger dressing Pandan oil and served raw, Chilli Crab Linguine, Grilled Black Angus Intercostal with sambal sauce, Raw & Smoked Heirloom Tomatoes Burrata, Garden Green Salad and end the meal with rich Coconut Panna Cotta specially made using beer & malt granita and mangosteen. This delicious platter can be enjoyed at $65++ per person. 
LeVeL33 Brewery Tour Singapore – Terms & Conditions
As mentioned above, it takes a minimum of six participants for the tour to proceed. Reservations are to be confirmed by advanced booking on the first Thursday of the month. All participants on tour must be at least 21 years old with a valid ID or under the supervision of a parent or legal guardian. Families with kids are welcome on the tour at their own discretion.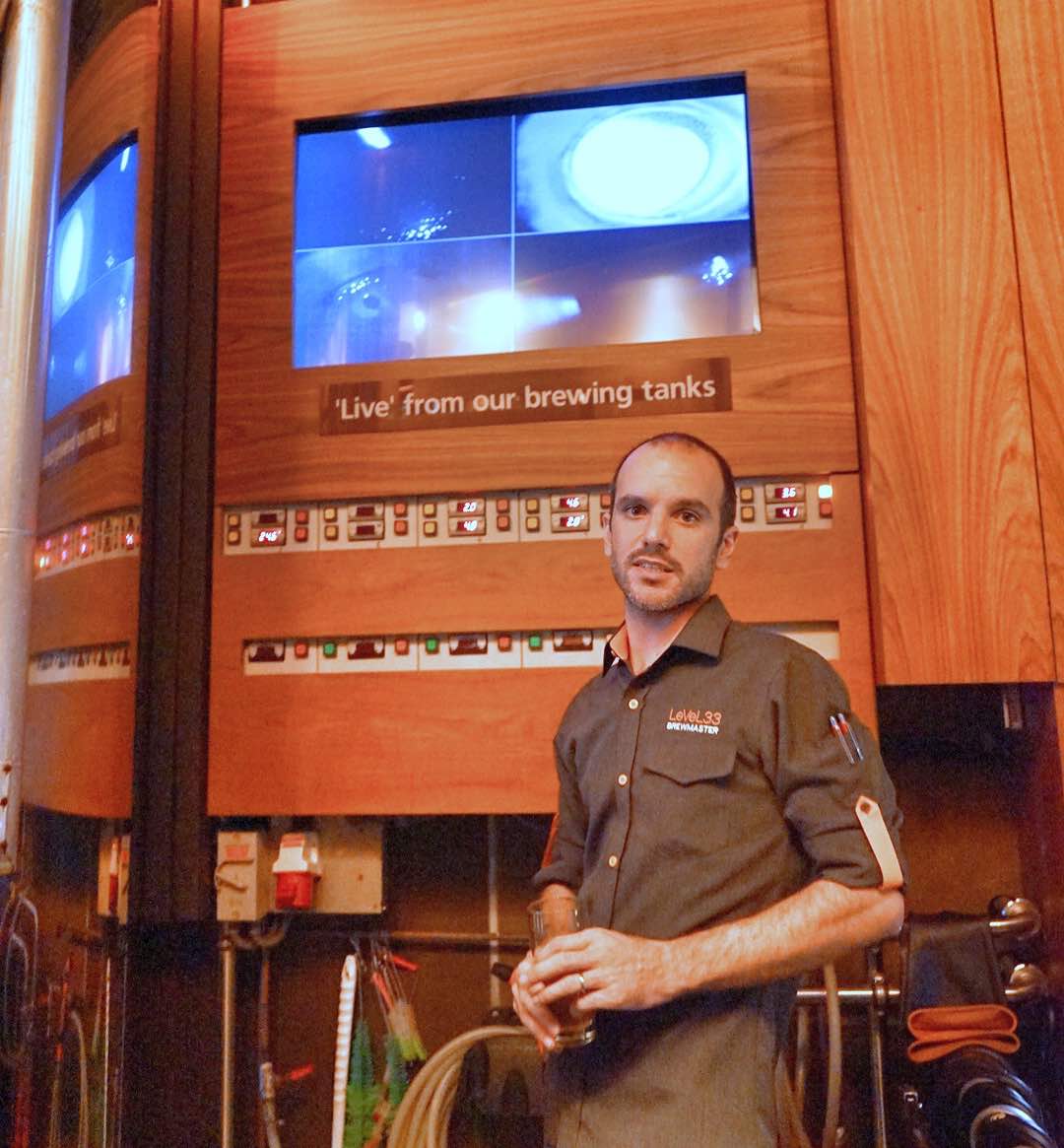 LeVeL33 Brewery Tour Singapore – Latest Collaboration With Two Birds Brewing
You will also be thrilled to know that LeVeL33, for the first time in eight years, has opened up its microbrewery for an exclusive beer collaboration this August. LeVeL33 Brewmaster Gabriel Garcia will be welcoming the award-winning Two Birds Brewing – Australia's first female-owned brewing company. Joined by Jayne Lewis, Two Birds Brewing Brewmaster, they brewed an exceptional Golden Ale, using Tasmanian hops. The Golden Ale tank will be tapped for the first pint on Thursday, 2nd August.
LeVeL33 Brewery Tour Singapore – Book Your Tour Today! 
Interested to organise a tour for your friends or loved ones? Here are the full details for brewery tour booking details:
Address: 8 Marina Boulevard #33-01 Marina Bay Financial Centre Tower 1 Singapore 018981 | Opening Hours: 11.30am – 12am (Mon – Thurs), 11.30am – 2am (Fri – Sat) & 12pm to 12pm (Sunday). Eve of Public Holiday: Extend to 2am. Public Holiday: Starts 12pm. | Tel: +65 6834 3133 | Website: www.level33.com.sg
Have fun and try to stay sober. 🙂