Holiday Inn Vana Nava Hua Hin Grand Opening was held on the evening of 24 February 2018. We were thrilled to be invited to attend this glittering grand opening ceremony together with 400 guests, including many celebrities and VIPs. Holiday Inn Vana Nava Hua Hin, Asia's first Holiday Inn Water Park Resort is set spectacularly on Thailand's Gulf coast, conveniently served by two international airports and just a quick 2.5 hours' drive from Bangkok. Located just next to the Vana Nava Water Jungle, Holiday Inn Vana Nava Hua Hin is well-positioned to offer all types of stays, from fun-filled playcations to couples' breaks, family holidays and unique business events!
Holiday Inn Vana Nava Hua Hin Grand Opening saw an action-packed evening of live entertainment which included a dramatic performance from popular Thai actress Jenny Tienposuwan,
as well as an exclusive concert delivered by the iconic Thai pop star Tata Young.
Holiday Inn Vana Nava Hua Hin Grand Opening performances were followed by an extravagant 9 minutes firework display that lit up Hua Hin's night sky. Being able to catch the gorgeous sight from the resort's towering Sky Deck was an unforgettable experience.
"We are delighted to celebrate Holiday Inn Vana Nava Hua Hin Grand Opening in such spectacular style," said Franck Rodriguez, the resort's General Manager. "We are proud to set a new quality benchmark with a fully-integrated hospitality offering extensive facilities, cutting-edge technology and breath-taking views over the Gulf of Thailand."
Holiday Inn Vana Nava Hua Hin Grand Opening – The Vana Nava Hua Hin Project
The resort is not a standalone development. Holiday Inn Vana Nava Hua Hin is part of a larger mixed-use development that is Vana Nava Hua Hin and located right next to Vana Nava Hua Hin Water Jungle. With 20 world class slides and attractions, the waterpark first opened its doors in 2014 with overwhelming success and has welcomed close to a million visitors since. It is definitely one of the biggest names in waterparks in Thailand.
The project will also feature premium residences which are expected to be launched later this year. To ensure seamless connection and experience for customers across this massive project, the unique RFID Technology was introduced. This handy RFID wristband can be used to unlock hotel rooms, access the waterpark and pay for food and entertainment within the entire development. How convenient is that!
Proud Real Estate Executive Director Proudputh Liptapanlop said: "Hua Hin has long been a beloved destination among the Thai aristocrats and high society since the 1920s when it was hand-picked to be the first resort town of Thailand by H.M. King Rama VI. Because of its sandy white beaches along with stunning mountainscape, its long history and its charms and heritage as a seaside fishing village, Hua Hin over the years has attracted many tourists both Thai and International. Now with the addition of a truly integrated resort-entertainment like Vana Nava Hua Hin, we are confident that Hua Hin will be able to attract even more visitors and establish its credentials as a leading resort destination worldwide."
Holiday Inn Vana Nava Hua Hin Grand Opening – New Icon Of Hua Hin
Being the highest hotel in Hua Hin, Holiday Inn Vana Nava Hua Hin is expected to become an iconic destination in Hua Hin, Thailand. With 360 degrees views from its rooftop, you can savour stunning sunrises over the Gulf of Thailand in the east, and enjoy golden sunsets over the hills in the west.
This amazing resort offers 300 rooms and suites which includes a series of inter-connecting rooms and KidSuites®, with special 'secret' rooms, decked out with bunk beds and play areas. Kids aged 12 and under can stay and eat for free, and everyone is offered free Wi-Fi and unlimited access to Vana Nava Hua Hin Water Jungle.
Besides the Water Jungle, you can also choose to unwind within the resort's own facilities such as the dramatic 26th-floor infinity pool, the Tea Tree Spa, a 24-hour fitness centre, kids' club and children's pool.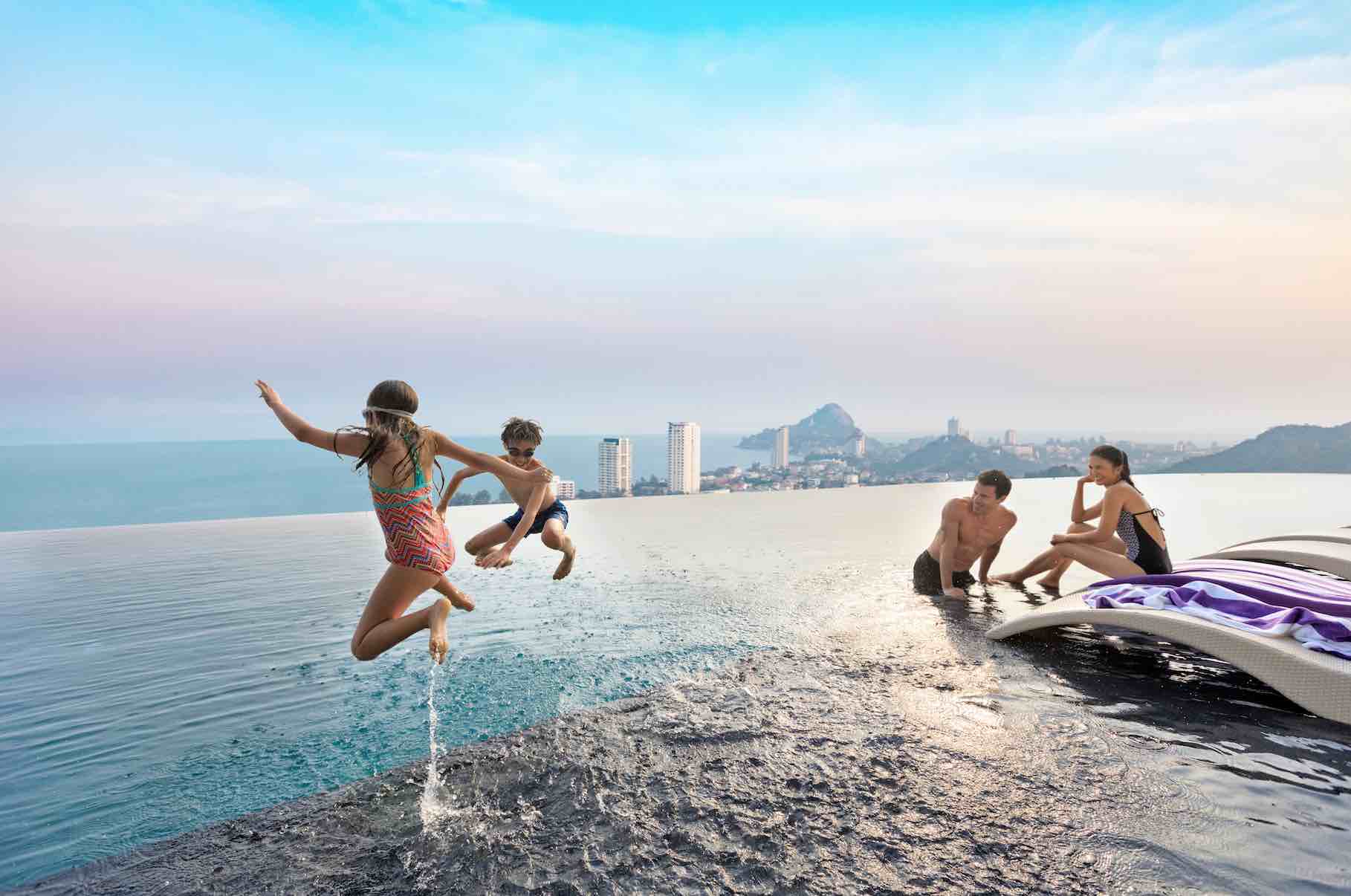 You have all your dining and entertainment needs prepared at the resort. There is all-day dining at Plamong Restaurant and you also check out the casual Pool Bar, the stylish Vana Nava Sky Bar or the Restaurant & Observation Deck, which offers spectacular views across the Gulf. 
Designed by Bangkok-based consultant Ashley Sutton, the mastermind behind some of Asia's most famous bars, including Maggie Choo's and Iron Fairies in Bangkok and Ophelia in Hong Kong, this dazzling destination also features a dramatic glass-bottomed deck 110 metres above ground and is set to become a "must-visit" destination for visitors to Hua Hin.
Clarence Tan, Managing Director Southeast Asia and Korea, IHG added: "We are delighted to be extending our partnership with Proud Real Estate. They have been a valued partner of IHG for a number of years since we opened InterContinental Hua Hin Resort in 2012. We are proud to work with partners who have such commitment to bringing our brands to life and with a strong vision to build innovative resorts that put guests first." 
Holiday Inn Vana Nava Hua Hin is also an attractive new option for event planners. With five function rooms and one of Hua Hin's largest ballrooms, the resort is likely to become an important destination for the Thailand's MICE industry. The grand opening party for Holiday Inn Vana Nava Hua Hin marks the arrival of a new landmark on Thailand's Gulf coast, and a new era of hospitality in Hua Hin.