Goodwood Park Hotel's highly acclaimed Durian Fiesta has regaled durian lovers with stunning new creations and perennial favourites handcrafted with D24 durians since the launch of the annual festival in March. For ease of enjoyment, delivery and takeaway services have been introduced for the hotel's famed durian pastries, along with signatures from the renowned Coffee Lounge and Min Jiang restaurants. Let's check out what's in store for Goodwood Park Durian Fiesta 2020!
Durian enthusiasts are set to be thrilled with the highly anticipated return of the grand dame's signature 'Mao Shan Wang' durian pastries, available for a limited time only. From now to 26 July 2020, the classic 'Mao Shan Wang' Mousse Cake ($72 nett, 500 grams) and 'Mao Shan Wang' Power Puff ($22.80 nett per piece) will join the sublime spread of D24 durian delights. Pre-orders of the Durian Fiesta pastries are required.
Goodwood Park Durian Fiesta 2020 – New Surprises This Year!
D24 Summer Dream
Light and refreshing, the gorgeous masterpiece is inspired by the tranquillity of lounging in the hotel's garden on warm and sunny days. The meticulously handcrafted D24 Summer Dream tantalises the palate with an alluring medley of grapes, blueberries, and edible flowers studded within glossy jelly that crowns layers of fresh durian pulp and sponge cake.
Price: $ 72 nett per cake (1 kg) / $ 12 nett per slice
D24 Party Squares
They have won the hearts of many durian lovers in the recent decade and are making their comeback by popular demand. 16 petite cakes, four popular flavours, and boundless enjoyment. The D24 Party Squares presents velvety D24 durian mousse paired brilliantly with cream cheese, pandan coconut, coffee, and chocolate marquise. Happiness is multiplied when shared, and these decadent treats are an effortless way to spread joy.
Price: $80 nett per cake (1 kg)
D24 Nutty Delight (Durian Peanut Cake)
This season, Goodwood Park Hotel is upping the indulgent ante by replacing the "jelly" in the world's most well-loved snack – peanut butter and jelly sandwich – with a generous layer of D24 durian mousse and top it with sweet marshmallows. The new D24 Nutty Delight is the epitome of satisfaction with moreish layer of creamy D24 durian mousse and liberal spread of crunchy peanut butter marshmallow. It is set to be the next addictive trend for all durian and peanut butter lovers
Price: $ 20 nett per piece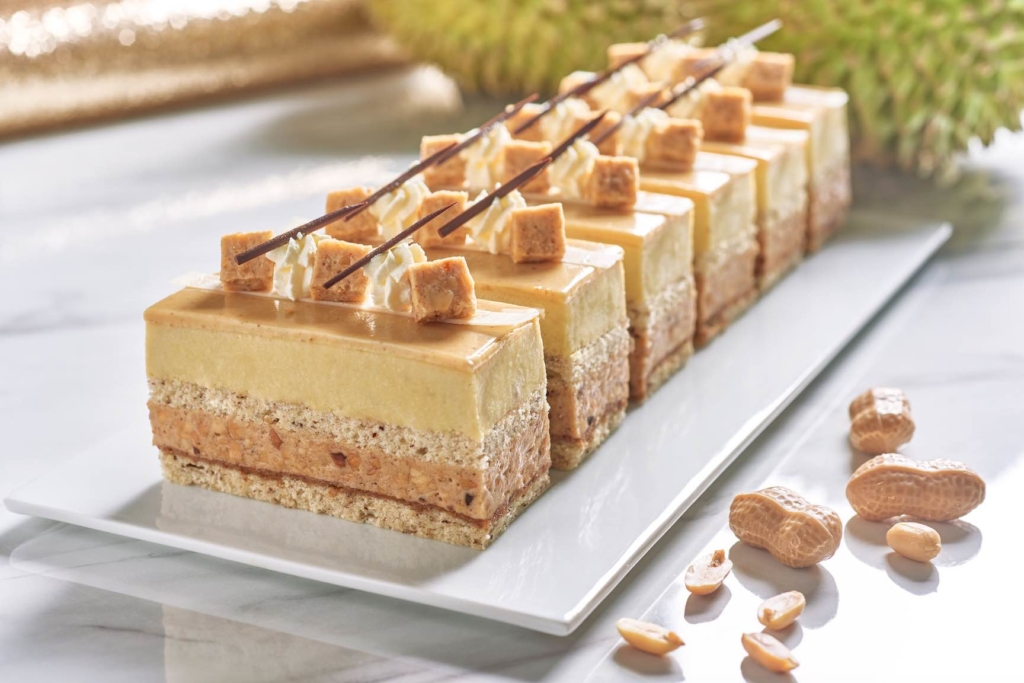 D24 Galaxy Ice Cream Roll
Since its first appearance in 2011, the hotel's durian ice cream cake has become a firm favourite for many. This year's stellar creation draws on the anticipation of a bright and starry future for the hotel. The beauty of the stars brings forth a striking illustration of the galaxy on a layer of sponge, which envelops delightfully smooth house-churned D24 durian ice cream.
Price: $62 nett whole roll / $ 15 nett per piece
Goodwood Park Durian Fiesta 2020 – The Stellar Favourites
D24 Mousse Cake
The hotel's unrivalled mainstay since its debut in 1983, this highly anticipated cake earns its fame and ardent followers through the decades with its generous lashings of pulpy durian mousse.
Price: $ 228 nett per 3 kg cake / $ 158 nett per 2 kg cake / $ 82 nett per 1 kg cake / $ 14 nett per slice
D24 Puff; D24 Durian Puff
The epitome of the popular quote "Good things come in small packages", this decadent choux pastry sees bountiful swirls of durian mousse sandwich in between a fluffy choux puff.
Price: $45 nett for 10 pieces / $28 nett for 6 pieces
D24 Crêpe (D24 Durian Egg Cake)
A quintessential dessert featuring a bounteous serving of creamy durian pulp enveloped in a delicate paper-thin crepe.
Price: $88 nett for 8 pieces / $14 nett per piece
D24 Durian Ice Cream / Mao Shan Wang Ice Cream
Offering pure durian enjoyment with an abundance of luscious pulp, this homemade frozen delight is available in a convenient 16oz takeaway tub.
Price: $20 nett per tub / $ 29 nett per tub
The Durian Fiesta Mascot – Spiky the Bear
The adorable fiesta mascot plush, Spiky the Bear, makes its fourth appearance to woo the young, and the young at heart. Snugly dressed in a charming durian shell 'onesie', this limited-edition teddy bear will be a faithful little companion and delightful memento.
Price: $22 net per bear
Goodwood Park Durian Fiesta 2020 – The Royal 'Mao Shan Wang' (2 May to 26 July)
'Mao Shan Wang' Power Puff
Only available from 12pm to 7pm, this highly popular jumbo-sized profiterole is freshly piped to plumpness upon order.
Price: $22.80 nett per piece
'Mao Shan Wang' Mousse Cake; Mao Shan Wang Durian Mousse Cake
This is a luxurious adaptation of the hotel's very first durian creation – the D24 Durian Mousse Cake – and contains only the finest 'Mao Shan Wang' pulp.
Price: $72 nett for 500 grams
Goodwood Park Durian Fiesta 2020 – Delivery & Takeaway
Online orders for the full range of Durian Fiesta pastries can be placed here. To order from a selection of Durian Fiesta pastries from The Deli, with à la carte food orders from Coffee Lounge and Min Jiang, visit here.
Terms & Conditions:
Online order is for delivery only; guests are to contact the hotel directly for takeaways
Menu prices stated on the delivery platform are subject to prevailing government tax
Cross-outlet orders are applicable for Coffee Lounge, Min Jiang and The Deli only
Minimum order of $50, with a delivery fee of $15 nett to one location (except Jurong Island)
Free delivery to one location (except Jurong Island) for orders of $120 nett and above
You can also contact the Goodwood Park Hotel directly to order your takeaway and delivery. Call: +65 6737 7411 or email: deli@goodwoodparkhotel.com from 4 May to 1 June: 11am to 7pm daily.