Housed in the recently opened Novotel on Stevens Road, FiSK Seafoodbar & Market Singapore offers 4,000 square feet of authentic Norwegian dining and retail experience for both diners and seafood enthusiasts! FiSK (Norwegian for fish) Seafoodbar & Market Singapore is a concept brought to life by Frank Næsheim, Founder and CEO of Snorre Food. Snorre Food is one of the most respected purveyors of seafood in Singapore and Asia, specialising in distributing quality Norwegian and coldwater seafood, as well as others sourced from around the world, to major restaurants and hotels for more than 30 years.
FiSK Seafoodbar & Market Singapore – Retail Market
Capitalising on the experience and expertise of Snorre Food and Frank Næsheim, FiSK Seafoodbar & Market Singapore marries the Norwegian dining and retail experience for a one-stop convenience – a gastronomic restaurant and fresh seafood market rolled into one. This seamlessness is what we call 'From Seafarer to Chef'; and it's all within 5 minutes of the city centre.
FiSK Seafoodbar & Market Singapore – From Seafarer to Chef
FiSK Seafoodbar & Market Singapore is a game changer in many ways: Through Snorre Food, it brings sustainable, traceable, healthy and safe coldwater seafood directly to you and is a leader in the 'Blue Revolution' – the worldwide movement towards managed, sustainable stewardship of ocean resources. They work with suppliers who adhere to strict regulations on fish management and are equipped with sophisticated monitoring systems of marine species for traceability of its produce. Selected seafood is ASC (Aquaculture Stewardship Council) and MSC (Marine Stewardship Council) certified.
Amongst a variety of fresh seafood available, some of the coldwater fish are gutted and cleaned at the moment of catch then immediately frozen to seal in the freshness, flavours and nutritional benefits until time for consumption. Upon arrival in Singapore, the coldwater seafood remains at an ideal temperature (ranging from -35°C to 5°C) facilitated by Snorre Food's optimally cold production, packing and storage rooms.
With its unprecedented variety of seasonal coldwater seafood sourced from across the world, and in particular Norwegian waters, the Market will prove a mecca for foodies, home entertainers, neighbourhood residents and chefs. There is the signature house-brand 'Pulpit Rock' – the first freshly smoked salmon range in Singapore with Asian flavours like Sichuan, black pepper, Thai curry and otah otah – as well as a wealth of Nordic foodstuffs such as house brand 'Viking Water' Belgian Blonde ale, complementary products to complete a meal, and Norwegian blue mussels exclusively imported by parent company, Snorre Food and retailed for the first time here.
Another special import is a fish called Skrei, a seasonal delicacy in Norway known for its white, firm, flaky meat and delicate flavour. Also seasonal and exclusive is Norwegian Red King Crab, coveted for its naturally sweet taste and juicy claw meat. The Market also houses tanks of live oysters of up to 3 coldwater varieties, scallops, crabs and lobsters.
FiSK Seafoodbar & Market Singapore – Benefits Of Eating Seafood 
The benefits of eating seafood are many. You get to obtain a good combination of nutrients in fishes such as Omega-3 fatty acids which promotes healthy hearts, reduces the risk of heart disease, improves brain functions and learning abilities as well as maintains clear vision and strong bones. Seafood also leads to healthier pregnancies and make good sources of lean, baby-building proteins. Last but not least, fish-eating promotes beauty through better skin complexion and healthier hair.
Compared to warm water fishes, cold water fishes have a much higher level of these nutrients and in particular Omega-3 fatty acids. Colder water naturally contains higher soluble oxygen, promoting growth and cleaner, clearer waters. As a result, coldwater fish are not only packed with vitamins, Omega-3 and proteins, but grow slower than warm water species as the need to survive in a cold environment drive them to eat more and store more fat.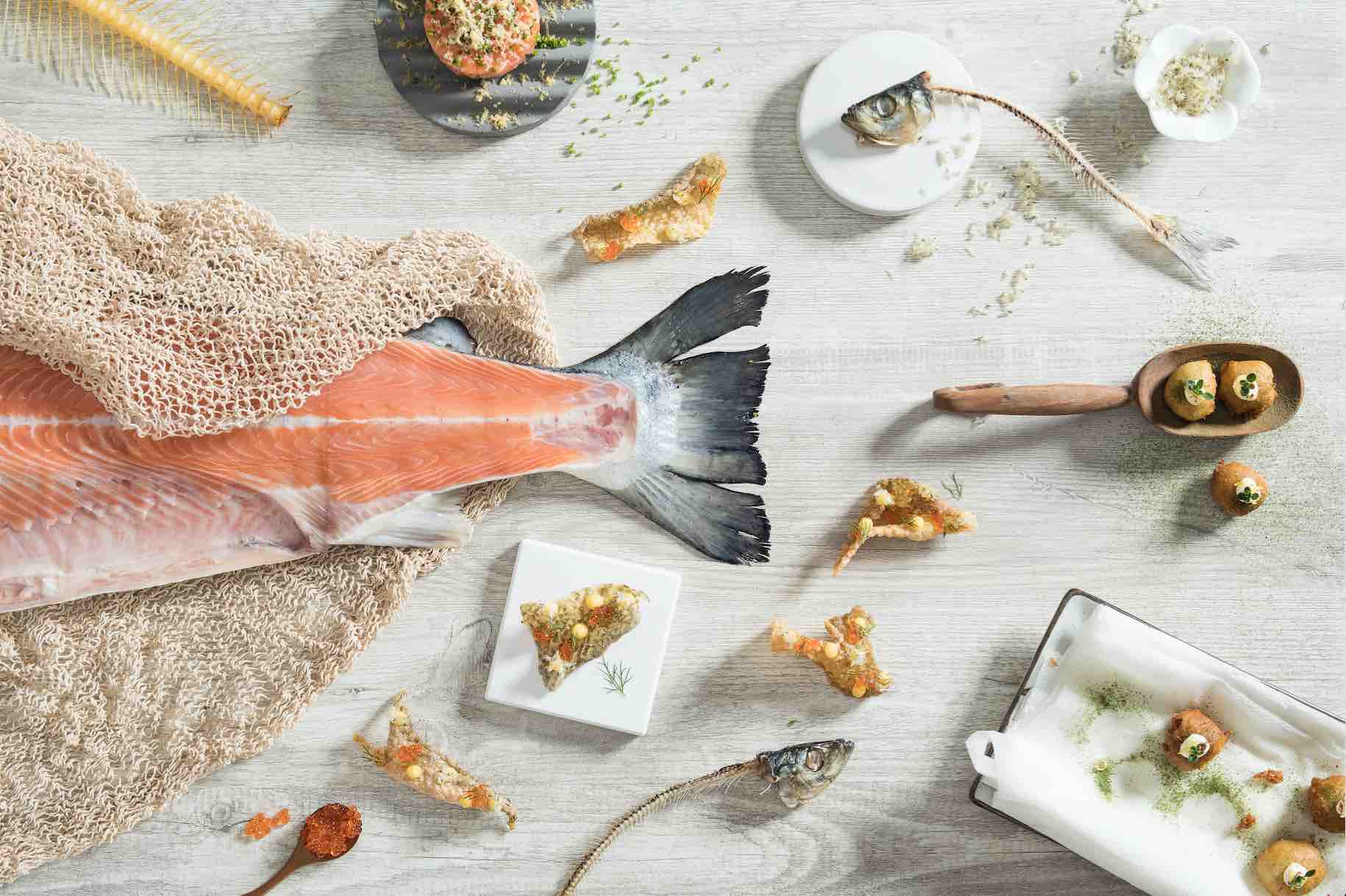 FiSK Seafoodbar & Market Singapore – The Seafoodbar
The Seafoodbar has a main dining area with seating for 30 and a 'live' kitchen that seats another 14. A communal retail table converts into a private dining space for 12 persons for after retail hours. diners can choose to sit by the 'live' kitchen to catch the chefs in action and tuck into coldwater seafood at its most sublime. Chef Markus believes in doing very little with high-quality ingredients, allowing them to 'shine' on their own.
FiSK Seafoodbar & Market Singapore – The Menu
The Seafoodbar's menu showcases the freshest quality seafood from the Market in choice dishes for lunch and dinner. For lunch, there is a 4-course Set and A La Carte, featuring Seafood on ice – oysters, king crab, prawns, lobster, salmon, trout, scallop, and seabream. Other cold selections include salads, and smoked and cured fish such as the in-house smoked salmon, 3 types of herrings, and gravlaks. Some standouts include the open-face "Smørrebrød" sandwiches; Creamed Fish and Shellfish Soup; and Baccalao using Norwegian dry-salted cod.
For dinner, you must try their Fried Herring and Salmon Tartar; Raw Hand-Dived Scallop ceviche;
Another delicacy not to be missed is the Seared Langoustine Tail with smoked bone marrow, confit of swede and crispy kale; and Arctic Char, lightly torched, cured in Konbu and served with cauliflower purée, wakame powder and caviar.
Last but not least, savour the impressive Hot-Smoked Greenland Halibut with pearl couscous, roe and horseradish sauce for sharing. Other hot dishes you may like to sample include Creamed Fish And Shellfish Soup; Baccalao, a traditional Portuguese dish of dry-salted cod, tomatoes, onions, potatoes and black olives; and Haddock Curry.
End off your meal on a sweet note with delectable desserts such as Uni Ice Cream with oat crackers, hawthorn berries and nori; and Cloudberry Mousse, crystalised chocolate and thyme. Other desserts include Apple Crumble with cream, compote and crystalised chocolate; and Sour Cream Mousse with strawberry consommé and cookie crumble. There is also a "Chef's Choice" set dinner for diners wishing to 'be surprised' by Chef Markus and his team's artistic ingenuity.
FiSK Seafoodbar & Market Singapore – Dining & buying in the Viking spirit
After enjoying a meal at the Seafoodbar, you can conveniently recreate a meal at home or purchase quality seafood, ready takeaways and Nordic products at the one-stop shop in the Market.
The knowledgeable FiSK Seafoodbar & Market fishmongers would be glad to impart friendly advice on any aspect of cooking, from the selection of produce available at the 18-meter long seafood display to preparation and best cooking methods for specific seafood. "Whatever you would like to cook yourself or have us do it for you, we'll be there with the seafood, condiments, tools, and advice that you need to spark up the meal," promises Chef Markus.
It does not stop there: the Market also transforms from a retail establishment to a social ground, as you can also book the space for gatherings or meetings, or dine at the communal table after retail hours.