There is a new spot for vegetarians or folks who are seeking healthier meals. Lotus Kitchen Vegetarian Restaurant dishes out over 50 contemporary Chinese vegetarian cuisines from the made-to-order dim sum to delicious local favourites such as handmade noodles and stir-fried dishes. You can indulge in a vegetarian feast prepared with natural premium ingredients and herbs such as lion's mane mushrooms, agaricus blazei mushroom, pearl mushroom, tian ma, cordyceps flower, burdock and sugar cane sprout specially imported from Taiwan. Besides tasting great, these ingredients can also boost your body constitution!
Ms Lee, who boasts over 13 years of experience in preparing vegetarian cuisines is the lady behind this 80-seater vegetarian restaurant. She has a penchant for mixing different herbs to create new aromatic blends as well as using homemade sauces and spices to whip up authentic local and Taiwanese vegetarian dishes. The launch of Lotus Kitchen rides on the success of its predecessor, Lotus Vegetarian Restaurant, another concept by Ms Lee. The restaurant prepares over 100 vegetarian buffet dishes daily and has numerous accolades under its belt such as Singapore's Top 100 Signature Dish Award & Hospitality Asia Platinum Awards 2004-2005.
Lotus Kitchen's menu will combine newly created dishes with some of Lotus Vegetarian Restaurant's best-selling mainstays. Satisfy your palate with this masterpiece creation, Signature Crispy Summer Wrap with Passionfruit (S$35.80), featuring a harmonious combination of pleasantly crisp soya slices coated in special batter and paired with passion fruit stripes to give you a tangy punch. Top it off with a dip in their homemade sweet bean paste sauce and the exciting array of distinctive flavours will leave your taste buds screaming for more.
Braised Mushroom in Hot Stone Pot ($18.80) follows a new recipe – Lion's mane, shiitake mushroom and bamboo shoots are stir-fried together with chilli and ginger. Basil leaves line the stone pot to provide additional fragrance to the dish.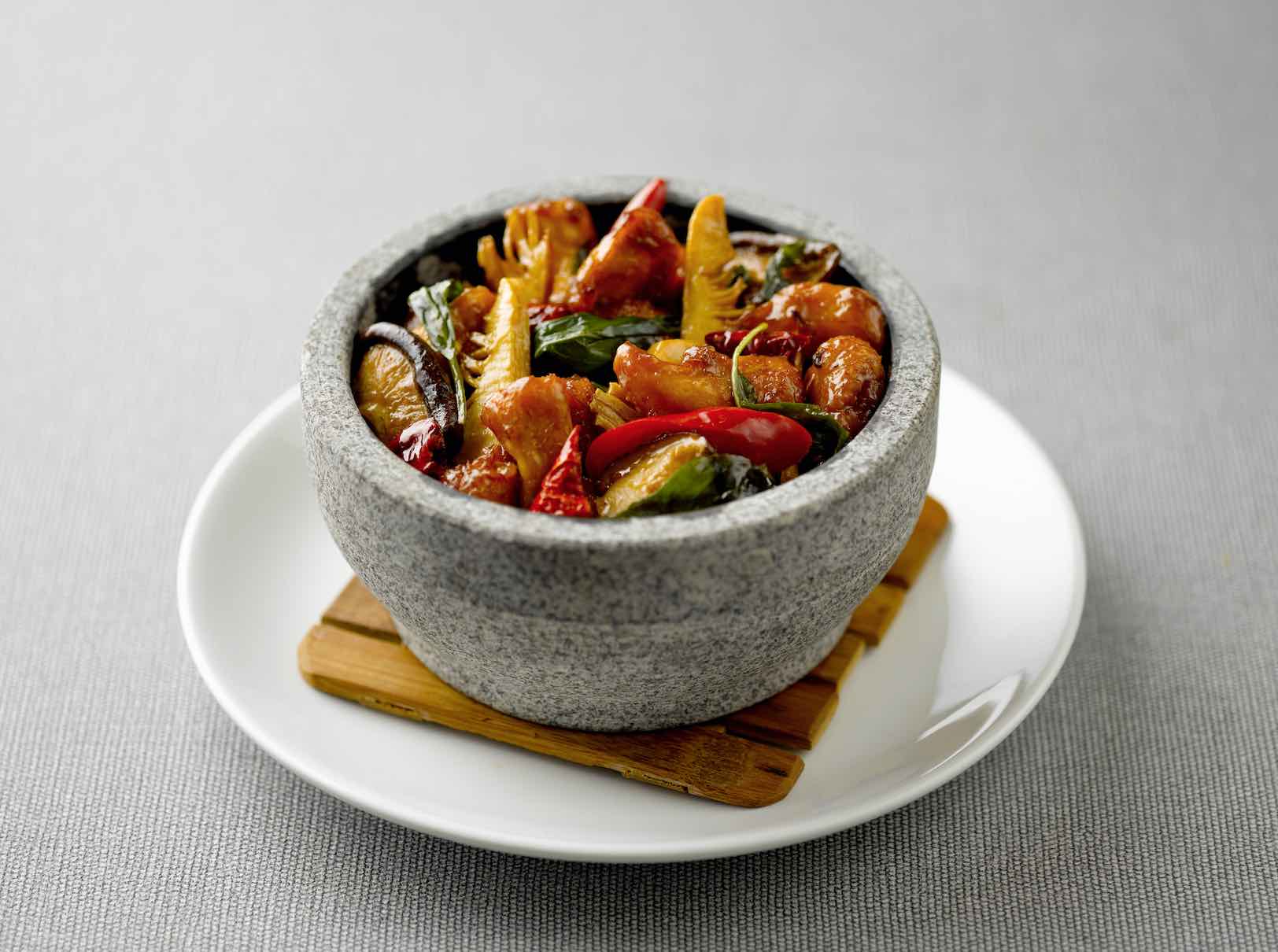 Continue your indulgence with the Spicy Grilled Oat Slices in Hotplate (S$18.80) made using natural ingredients such as oats and soya. Heaped upon the slab of oat slices, Ms Lee's specially blended chilli punctuate the dish with a fiery kick.
The Taro Mee Sua Cake (S$6.80) lets you enjoy the best of two worlds: pan-fried taro and mee sua cake.  
Tuck into the savoury delight – Lion's Mane Mushroom Pan-fried Dumpling (S$8.80/6 pieces). These handcrafted dumplings are pan-fried with a delightful crunch of water chestnuts.
The Signature Homemade Satay (S$15.80) showcases soya slices marinated with more than 10 fragrant spices. Dip each skewer into the homemade satay sauce for the extra oomph!
Lotus Kitchen has also put a modern spin on a national favourite — the Signature Stir Fried Laksa (S$9.80) is a gratifying meal, starring in-house laksa gravy and fresh spices that lend a piquant flavour.
The signature dishes, curated from Lotus Vegetarian Restaurant's menu, are bound to delight as well. The Signature Double-boiled Herbal Tian Ma Soup (S$8.80) is a nourishing offering, steamed and brewed with over 10 herbs and premium-quality pearl mushrooms. The tian ma herb also has liver-calming and neuroprotective benefits.
Cap off the meal with the Lotus Yam Paste with Purple Rice (S$6.80). The yam paste is cooked with the purple rice together with red beans, red dates, dried raisins and wolfberries. The yam paste is piped onto the plate, and then topped with the purple rice mixture. Gingko nuts add the finishing touch. Or go with the Pumpkin Paste with Purple Rice (S$6.80), a light pumpkin puree topped with purple rice and vanilla ice cream, for sheer indulgence.
Lotus Kitchen boasts a modern minimalist interior design, and its cosy and congenial atmosphere promises gourmands a great bonding time. Savour the vegetarian dishes in an air-conditioned setting, and go on an epicurean journey with your loved ones!
Lotus Kitchen
Address: #01-01/02,  Chinatown Point, 133 New Bridge Road, Singapore 059413 | Opening Hours: 11.30am – 3pm & 5.30pm – 10pm Daily | Tel: (65) 6538 1068 | Facebook: LotusVegetarian | Instagram: @lotusvegetarian